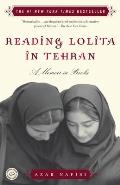 Last night I got to hear Azar Nafisi talk. Nafisi, the author of Reading Lolita in Tehran, was a wonderfully articulate and fast speaker. Her frequent tangents and asides ("And to make a long story short...") helped bring her humanity to the forefront of a range of distressing topics.
Nafisi has been in the United States since around 1997, and it is clear that she still loves Iran, but what Iran is doing to its people is a stronger reflection of some of the things that are happening worldwide, including what is happening in the regulation of women's reproductive rights in the United States today. While this wasn't the only thing she talked about and was not by far always expressed in as blunt a language as I am using here, it was a powerful message. We might not be experiencing the express violence that marks the treatment of young women in Tehran and other areas of Iran, but we are being regulated and legislated into the background every time someone decides to put forth another personhood amendment or another law that redefines rape to go against women and men who have been abused in this fashion.
However, not all she talked about was as politically charged. One of her greatest statements was about imagination. She said (and I paraphrase) that what makes America great is imagination. That you can imagine something and then actualize it, make it real. She went on to say that devaluing support for the humanities (aka, respect for the humanities) lowers imagination, and that the death of imagination is the greatest threat we have in America.
I wish that the Boston Speakers Series had video available of the talk. Even just highlights would be great. Like in any great talk there are nuances and areas where I missed things and being able to review it would be terrific.