I have started (without finishing a completed project) in the past 2 weeks:
Bridesmaid shawl number 3
A scarf for Rick
A second hat for Dulaan (using my hand-dyed lace mohair for extra interest)
A brioche scarf for Dulaan (and to practice the stitch)
Socks, because I wanted to know how to make a pair of socks
Of these, the item I am closest to finished on is the socks. Why? Because I was practicing with hideous Red Heart acryllic yarn (Classic is nasty stuff even if other Red Heart stuff isn't so bad).
There will be no second sock. This sock will be dandied up in my final finishing and become a sock-shaped dice bag for some poor fool victim friend of mine. It is really a very vivid purple color, not as blue as it shows up in the picture.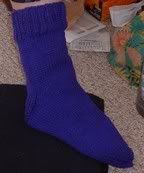 Oh, the picture. Here. Your eyes can bleed as much as mine did when I was knitting this monstrosity. What possessed me to pick this bright purple color? Heck, what possessed me to put the sock on my foot? (Granted with a second sock underneath it is both warm and comfortable. Not nearly as scratchy as it was in the working.) Honestly, the sock can stand on its own. I probably should have taken a picture of that instead. Or one of the kitten trying to eat the monster. Or even a picture of the sock trying to eat the kitten. (Poor kitten.) But no, there is just the scary sock on a sad foot against a messy floor. Sorry for the shocker.